We're celebrating MCO's first blog-birthday with MCO's Birthday Bash are so glad that you could join us for this event! If you've missed the giveaways up until now, be sure to click on the photo below to enter to win some amazing prizes from Strollers to Cookware!
Click on the image below to be redirected to a list of open giveaways.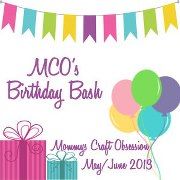 MCO's Birthday Bash is continuing our celebration with a Twitter Party with Nuby USA! Get ready to win great prizes and party with us at the #NubyBday Twitter Party!
We hope to see you at the Twitter party and can't wait to see all the awesome prizes.
I can't wait and I know you can't either!
Photo Credits: Nuby
Nuby is one of the leading brands in baby's feeding, weaning, soothing, play, bath, and nursery, has been distributed in over 155 countries, and has been loved by millions of babies for over 35 years. Nuby strives to make the lives of parents and little ones easy, simple, and fun so they can enjoy the experiences of growing up with the reassurance that Nuby products have been researched, developed, and manufactured to the utmost standards. Nuby products are inspired by nature and offerer the safest and simplest choices for you and your baby. With Nuby, not only are you getting quality products, but Nuby also gives back to the community with philanthropic efforts that support children's causes and focus on the education of children with disabilities. They have adopted the Deaf Children's Literacy Project (DCLP) and placed the DCLP on most of their baby projects including bottles, toys, teethers, breast pumps, and a variety of other items. Aside from having adopted DCLP, Nuby also raises awareness for Down Syndrome with their Nuby Peach, Love, & Down Syndrome campaign which shares stories from families who have been touched by a child or adult with Down Syndrome, provides Nuby No-Spill cups to over 2,000 children with Down Syndrome. Nuby products are sold in hundreds of stores across the country and on various well known websites such as Amazon and Buy Baby Direct.
Have you ever used a Nuby product before? Whether you have or haven't, you're about the have the opportunity to win one of ten Nuby bath toys that will be up for grabs at the #NubyBday Twitter Party!!!
Hosted By:
@NubyUSA
@loveMCO
Co-hosted By:
@VivaVeltoro
@OpenHands
Sponsored By:

Photo Credits: Nuby
(Tweet Grid)
Nuby is proud to introduce their new bath toys! Not only are these new bath toys perfect in the tub, but they're perfect for at the pool or beach as well! TEN (10) lucky winners will have the chance to win a new Nuby bath toy for their little one!
Photo Credits: Nuby
Collage Credits: Mommys Craft Obsession
Photo Credits: Nuby
Photo Credits: Nuby
Please RSVP below, once you have RSVPed you will have the opportunity to take advantage of extra entries by following the hosts and sponsor on various social media networks, and by sharing the party details with your friends and family. You do not have to do any of the additional entries if you do not want to, but please keep in mind that the more entries you do, the better chance you have to win!
You must have RSVPed to the Rafflecopter and have tweeted at least once during the party using the #NubyBday hashtag. Winners will be chosen at random through Rafflecopter (which uses random.org), verified, and announced at the party. If you are a winner you will be emailed within 24 hours of the party ending.
a Rafflecopter giveaway
Disclosure: This twitter party is open to US residents only and is not applicable to P.O. Boxes. All entries will be verified. If you have been lucky enough to be selected as a winner you are ineligible to win any other prizes. Winner is not allowed to ask for a different prize than that of which they won. If you are selected as a winner your name will be announced at the Twitter Party and you will emailed within 24 hours of the party ending to redeem your prize. You will have 24 hours to respond to the email before you will forfeit your prize and a new winner will be selected. Mommys Craft Obsession is not responsible for prize fulfillment or shipment. If you have any further questions please contact Alex at mommyscraftobsession AT gmail DOT com. This blog has not been compensated monetarily for promotion of the sponsors or for participating in this event.
*
Faith Filled Footstepshas not been compensated for the promotion of this twitter party.